Mystery Cafe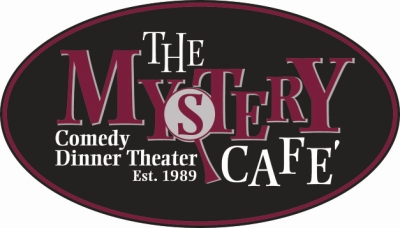 Mystery at Majestic Oaks!
Will be back this november!
A Night Out with Friends!
Our interactive comedy dinner theatre shows are a GREAT way to spend a unforgettable night with friends! Join us for a gut-busting mysterious comedy, drinks and a delicious three-course gourmet dinner.
What is it?
Mystery Caf presents scripted, highly-polished comedy mysteries.During the three intermissions you are served a delicious three-course meal. Along with some other audience interaction, guests are invited to try to solve the mystery and win prizes!

How do I make reservations?
You can always call our box office, 763-566-2583 with questions or to make a reservation, or reserve online at www.themysterycafe.com
Lee H. Adams is perhaps the most produced playwright in his genre. His shows have been appearing all over the U.S for twenty years. His plays "Let's Kill the Boss" and "Murder by Chicken" have been seen by millions of people all over North America. Locally, his Chase Taylor series of plays has been keeping audiences in gut-busting laughter with such Comedy-mysteries as "Who Wants to Kill A Millionaire" and "A Man in Pajamas."
And now, his newest show, the 5th installment in the Chase Taylor series, see Chase wrestling to catch up to the rest of the world as he struggles to figure the difference between a text and a tweet, A laptop and a tablet, an Instagram and a grahm cracker. All this while trying to solve his toughest case yet!
Whatever the story, the format here at Mystery cafe is always our proven formula of the Twin Cities best comedic performers, a wonderful three course meal, bribe money, laughs, clues and a mystery only you can solve. Book your tickets early, as December dates always sell out fast!